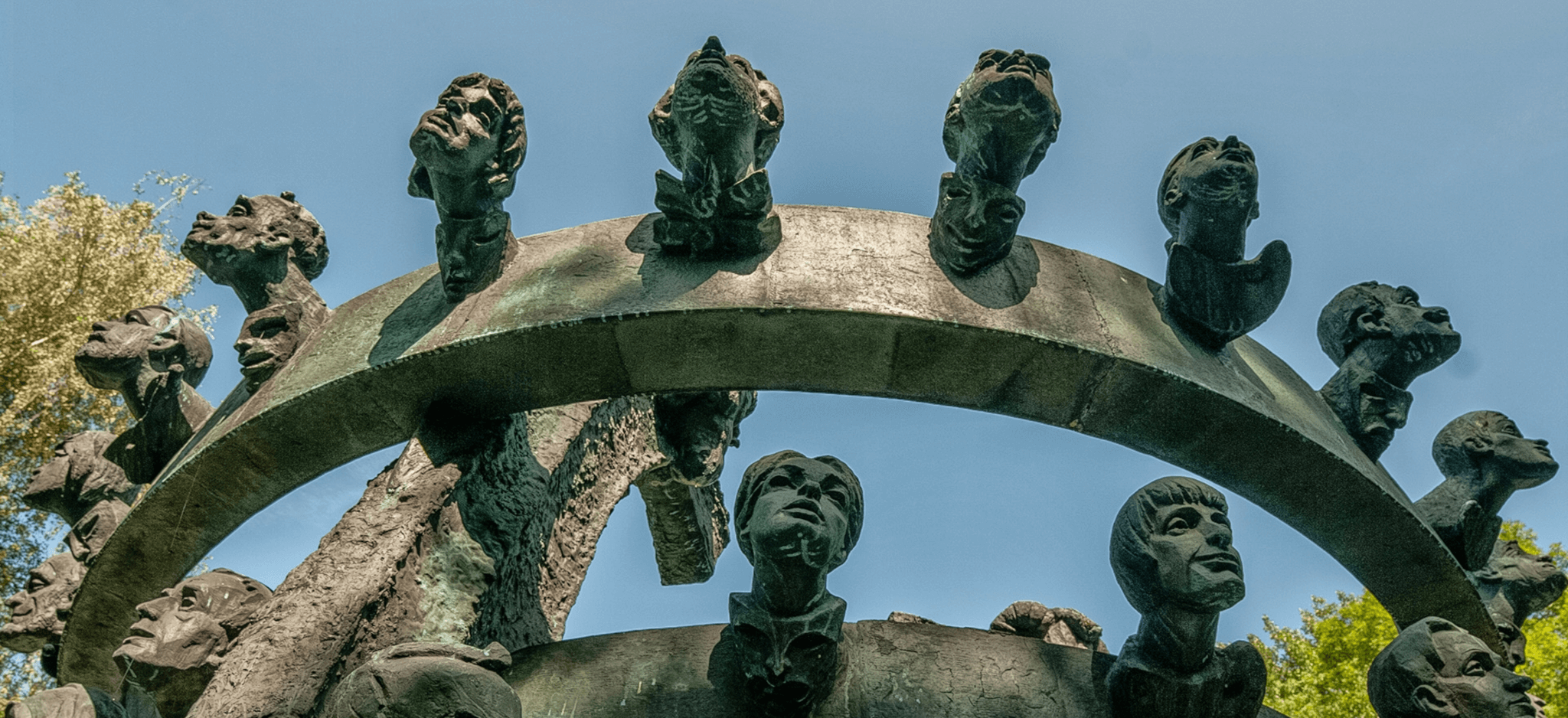 Monuments
Monuments make the artist a household name
Monuments make the artist a household name, since they stand in public spaces, often in prominent locations that are well frequented. Bronisław Chromy produced outstanding monuments, but he could not and did not want to stop there. In 2006, he remarked on his artistic output: 'How many sculptures or paintings have I executed in my life? I cannot give a precise answer. Monuments – seventeen, church doors – three, including one monumental piece. Four significant tombstones, hundreds of open-air sculptures and thousands of smaller ones, scattered all over the world… I have made about six hundred miniature Wawel Dragons, and there are no two identical ones because they are always produced from scratch…'. It should be noted that unlike most sculptors, Chromy completed many of his works single-handedly, including casting and the making of replicas.
Bronisław Chromy was a sculptor with a perfect technique, broad horizons and a distinctive artistic individuality. Although primarily remembered by his compatriots as the author of monumental historical monuments, his interests were extremely varied and he was ready to take on every challenge, looking at the world with an open mind and letting his imagination run free. In the 50 years since 1963, when he completed his first monumental project – the Auschwitz Pietà, Bronisław Chromy produced several dozen monuments, often huge ones. Commemorating momentous and sometimes tragic events from Polish and world history, they force spectators to meditate and are simply moving.
The Auschwitz Cycle, Monument to the Shot in Kuźnice and other martyrdom monuments were an important stage in the development of Bronisław Chromy's unique sculptural style. These works are highly expressive, with suffering emanating from deformed bodies despite their extraordinarily economical form. This economy and, paradoxically, the expressiveness that accompanies it, can also be seen in much later works, such as the 1985 Monument to the Victorious Defenders in Krynica or the Monument to the Soldiers of Polish Resistance in Cracow. When writing about Bronisław Chromy's monuments, one cannot fail to mention the work whose fame reaches far beyond Poland's borders – the Wawel Dragon, which has attracted crowds since 1970. Bearing the unmistakable hallmarks of its creator, it has become one of Cracow's icons. Also on the bank of the Vistula River there stands the Monument to Dżok the Dog, which is perhaps not the most important from the point of view of the artist's output but says a lot about him as a person. This work is a tribute to a faithful friend – a reflection on the wonder that is the canine soul – and is significant in this regard.
Bronisław Chromy co-founded the Piwnica Pod Baranami literary cabaret in 1956, and almost half a century later, in 2000, a monument to that cabaret designed, produced and funded by the artist was unveiled in the Decius Park in Cracow. This is what Chromy said about that monument and about his work as a whole: 'The monument is my private work devoted to the Piwnica. I decided to produce it free of charge just like a few of my previous monuments which were not made for money. My reward here is satisfaction. I am content because I have a fascinating job and my time is not wasted'. 'The joy of creation' is probably the most fitting term to describe Bronisław Chromy's work.