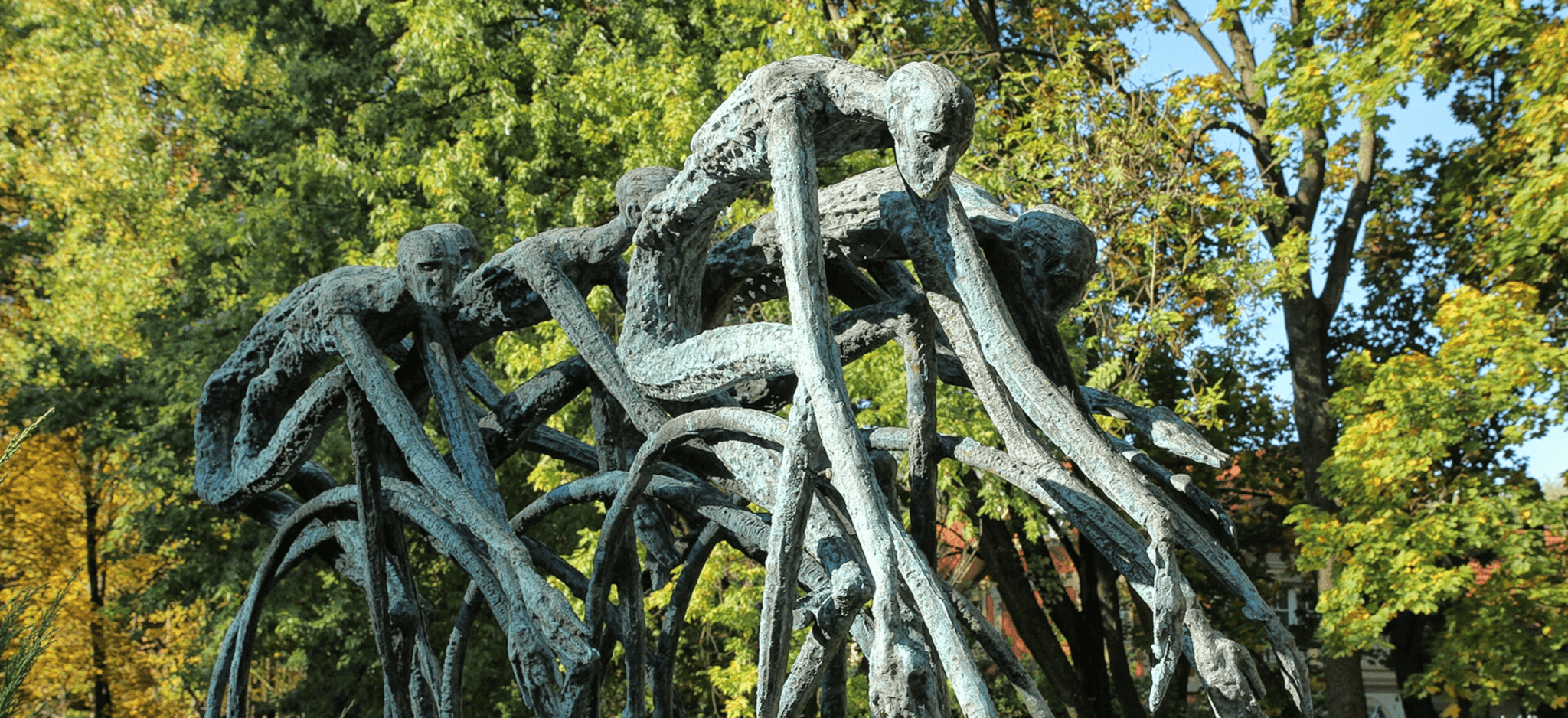 Sculpture
The sheer number of his outdoor sculptures thwarts any attempts at comprehensive description. The innovative Sheep grazing on the lawn in front of the University of Agriculture in Cracow must certainly be mentioned here. This work, enthusiastically received at the time, remains delightful and it brought the artist fame and recognition apart from his monuments. More such sculptures followed – cranes, grebes, herons, dogs and horses, roosters and goats, and yet more flocks of sheep. All these were made from natural stones of various textures 'set' in bronze or aluminium. Some of them are simply bronze. Bronisław Chromy created an artistic language that was unique and unambiguously his own. In addition, while outstanding in its quality, his art greatly appeals to the general public.
Chromy's outdoor sculptures depict more than just nature. The artist's interests were so broad and his curiosity for everything around him so great that he easily handled new subjects: Rocky Notes – a spinning music band in bronze and granite – as well as the powerful Pietà, Apotheosis of Flight or Footballers are sculptures that simply blow us away; finally, there is the masterpiece – the incredibly dynamic Cyclists. Just as with nature portrayals, the artist's presentation of silhouettes is surprisingly diverse, but the original is always recognisable in its characteristic movement or twist of the body.
Chromy's open-air sculptures are only a step away from his small, even intimate sculptural works which he produced in their thousands. These provide another example of the artist's favourite subject: a dialogue with nature. There are bronze owls, big and small, with huge eyes suggestively staring at us – a theme that recurs in Bronisław Chromy's work almost from the very beginning. Masurian birds, but also splendid peacocks, are a constant presence as well. There are snails, fish and ants (which are not particularly small), and of course sheep. Here, too, the artist combines river and field pebbles with his distinctive verdigris bronze, which resembles filigree work. Later, fossil snail shells and semi-precious stones also appear, to a great effect.
Bronisław Chromy also created religious sculptures. These include monuments of John Paul II in Tarnów and Zielonki near Cracow, the Crucifixion Group forming part of the main altar of the Church of the Immaculate Heart of the Blessed Virgin Mary in Tarnów, From Life to Life – a sculpture of Christ Crucified in the Ark of the Lord in Nowa Huta, stations of the Way of the Cross in Bielsko-Biała, a sculpture of the Good Shepherd in the Church of Our Lady of Fatima in Tarnów and many others. Two of his religious works are particularly worthy of mention owing to their form. These are the monumental bronze church doors in Tarnów and Nienadówka. Apart from Chromy's artistic mastery, these extraordinary works depict secular themes, which is virtually unheard of since famous doors of Polish and European churches almost always feature religious iconography. The door in Tarnów is dedicated to Maksymilian Kolbe, the patron saint of the church. On the other hand, the door from Nienadówka – the Gate of Memory, an outstanding if little-known work, is a monument to those murdered by the Nazis in death camps, illustrating the hell on earth created by people. The sole religious element here is the figure of Sorrowful Christ crowning the arch of the portal.